---
Measurement Device News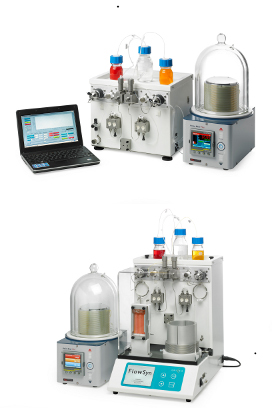 Shepreth, UK -- Uniqsis has announced a new portfolio of modular flow systems, based around its Binary Pump Module (BPM) and FlowSyn™ flow reactor technology to provide users with greater flexibility and broader synthesis capabilities.
Uniqsis developed the original two-channel FlowSyn™ flow reactor system as a fully integrated 'one box' solution to make the emerging technology of continuous flow chemistry easily accessible to anyone with an interest in exploring and exploiting this exciting field of research.
This system, which handles simple homogeneous and heterogeneous reactions at the push of a button, represents an easy, hassle-free entry into continuous flow chemistry.
As users and applications have become more sophisticated, Uniqsis has developed more powerful and sophisticated FlowSyn™ systems, culminating in the FlowSyn™ Auto LF capable of executing multi-step, multi-reagent experiments completely automatically and unsupervised.
Read full article: 'Modular Flow Reactor Systems Broaden Synthesis Capabilities'
Posted by wbprimetek on Sunday, December 23, 2012 (193 Reads)
Potentially Game Changing
Dublin OH, USA -- DNV Research & Innovation is pleased to announce significant progress in their collaboration with Gingko Bioworks in developing an advanced microbiological pathway to convert CO2 to fuels and chemicals.
The successful results of the work were presented at the
ARPA-E Electrofuels Workshop
on December 10th, 2012.
Most biofuels are produced from plants or algae through photosynthesis; however, photosynthesis is an inefficient process. Electrofuels bypass photosynthesis altogether by utilizing microorganisms that don't need sunlight to grow or produce biofuels.
These microorganisms directly use energy and carbon from electrolytically-derived formate to produce liquid fuels from carbon dioxide (CO2).
Such a process is much more efficient than photosynthesis. Electrolytic production of formate from CO2 can utilize electricity from a variety of renewable sources.
Read full article: 'DNV & Gingko Bioworks with Technology for Utilizing CO2'
Posted by DNV Marketing on Saturday, December 22, 2012 (290 Reads)
Povides innovative radio frequency (RFID) & Wiegand solutions for automated identification and data transmission
Toronto, Canada - GAO RFID Inc. is offering its 125 kHz HID card reader. This HID card reader provides innovative radio frequency (RFID) and Wiegand solutions for automated identification and data transmission in access control, computer security and asset tracking applications.
This high performance 125 kHz HID card reader, Model 211003, offers a read range up to 15 cm with a fast identification speed of 0.5 s per tag.
It provides Wiegand 26 output format at a transmission distance of up to 150 m.
Read full article: '125 kHz HID Card Reader Boasts Fast Identification Speed'
Posted by GAO RFID Inc on Friday, December 21, 2012 (206 Reads)
Maisach/Munich/Germany. The isolating 5B measuring amplifiers of BMC Messsysteme GmbH (bmcm) provide for optimum signal conditioning, effective noise suppression, and protection against high potentials.
Precise and safe measurements are guaranteed.
Measurement is not just measuring. The quality of the measurement setup is decisive for measuring data to be reliable. This can be considerably improved by the following points:
Avoiding ground loops
If measuring signal, DAQ system, PC, and power supply have a different ground reference, a compensating current occurs. In the most harmless case, only the signal will be distorted. Not separating potentials, however, is often the cause for destroying the measurement system.

Isolation is the suitable method here.
Read full article: 'Measuring Amplifiers MA-UNI/-UI/-U High-End Measurement'
Posted by bmcm_Press on Thursday, December 20, 2012 (187 Reads)
Richard Paul Russell Ltd launches compact, affordable data loggers
Lymington, UK -- The SpaceLogger.A10 really is the multi-tool of data loggers. It's flexibility makes it well suited to a wide range of applications within education, scientific research, industrial automation, plant and machinery monitoring, quality control, security monitoring, environmental monitoring and more.
The recorded data is stored on a removable memory card which enables remote data logging without direct connection to a PC.
After logging, the memory card can be simply inserted into a card reader, to view and analyse the data on a PC without the need for special software.
There's a real-time clock for date and time-stamping and a new file is generated for each day's records.
Read full article: 'NEW: The SpaceLogger®.A10 Afforable Data Logger'
Resolve's Model 228 images objects from infinity to 1:1.25 x w/o add-on adapters
Chesham, UK -- Designed specifically for forensic investigation the Resolve Optics Model 228 is a full featured high performance UV lens. It has an extended magnification range by using a novel telescopic focusing mount giving a large movement in an extremely compact form.
Renowned for their specialist lens design for nuclear applications, Resolve Optics designed and supplied a specialist camera manufacturer with a novel UV zoom lens enabling remote viewing of a nuclear fuel assembly through 10 metres of water.
To meet the challenges of this difficult application, the UV zoom lens was designed to optimally operate from 10 to 55 ºC. Miniature motors were incorporated in the design to allow accurate remote setting of both zoom and focus functions.
Read full article: 'High Performance UV Lenses and Lens Design'
Posted by wbprimetek on Tuesday, December 18, 2012 (255 Reads)
Certified RNase / DNase free & non-toxic
Lelystad The Netherlands -- Micronic has launched a new 2.00ml storage tube that uniquely combines higher sample storage capacity and absolute sample traceability in an industry-standard 96-tube rack format.
For organizations in the life sciences industry, such as biobanks or biotechnology and pharmaceutical research companies, assured high integrity storage and ease of handling of each sample is critical.
Drawing upon over 25 years experience of supplying sample storage and management solutions to life science labs worldwide, the new Micronic 2.00 ml storage tube uses a unique 2D code laser encrypted on the tube bottom to enable easy identification and traceable storage of your samples.
Read full article: 'Higher Volume 96-format Sample Storage Tubes'
Posted by wbprimetek on Monday, December 17, 2012 (230 Reads)
On unshielded symmetrical high speed telecommunication lines including Ethernet
Edison NJ, USA – Teseq Inc. has designed a new CDN (coupling/decoupling network) for surge testing on unshielded symmetrical high speed telecommunication lines including Ethernet. The CDN HSS-2 enables convenient surge testing with 1.2/50 µs pulses on active telecom lines.
Ideal for use in laboratories, Teseq's CDN HSS-2 is compliant with IEC 61000-4-5 and is compatible with all industry standard surge generators.
It can be used for surge testing on lines with up to 8-wire unshielded twisted pair (UTP), with integrated service digital networks (ISDN) as well as with 10/100 BaseT and 1000 BaseT.
Read full article: 'Teseq Develops Coupling/Decoupling Network for Telecom Surge Testing'
Posted by Simon Group on Sunday, December 16, 2012 (350 Reads)
Affordable R&D Tool From OptoTherm
Sewickley PA, USA -- OptoTherm, Inc. has released an affordable thermal imaging, the
IR LabMate, camera
that can be used in product design and development, and electronics applications such as detecting short circuits.
The camera system includes the
IR LabMate
thermal imaging camera, required cables, and Thermalyze image analysis software.
The
IR LabMate
camera utilizes a 320x240 array detector, has a temperature sensitivity of 0.08 °C, uses an Ethernet interface, and comes with a wide angle lens.
Optional accessories include camera stand, circuit board test probe, high calibration range, and relay output module to synchronize board power with software tests.
Read full article: 'NEW: IR LabMate Infrared Camera'
Posted by OptoTherm on Friday, December 14, 2012 (338 Reads)
Near Field Connection (NFC) is an emerging technology developed to exchange data between close devices
Guangzhou / Guangzhou, China -- Compared with other near connection technologies, like Wi-Fi or Bluetooth, NFC technology transfers data over a much shorter distance, providing better natural safety. Moreover, NFC holds very big advantages on using distance and setting time together.
Generally, the setting time of NFC is less than 0.1 sec, which means that connections establish upon near-contact.
DAILY's latest NFC tags and NFC readers with high performance are excellent products. Corresponding to ISO 15693 and ISO 14443 standard, NFC tags can be encoded and programmed with NFC readers for usage in NFC apps, like e-payment and access control.
Read full article: 'Better Near Field Communication (NFC), Better Life'
Posted by DAILY RFID on Thursday, December 13, 2012 (626 Reads)
---