---
Measurement Device News
Dunedin FL, USA -- Ocean Optics is delighted to extend their thanks with a couple of summer promotions that they think their customers will enjoy. Both are good through August 31, 2012 and include the Americas and Europe.
From now through August 31, 2012, get a free 8 GB USB memory drive with your purchase of an Ocean Optics spectrometer. These cool and handy memory drives look just like their popular USB2000+ miniature spectrometer, are small enough to fit in your pocket and come complete with a removable dust cover.
From now through August 31, 2012, your purchase of $12,500 USD (or €10,000 EUR) gets you a totally cool Gerber Steady Tool. This ingenious contraption is equipped with a fine edge blade, a serrated blade, three screwdrivers, a bottle opener, pliers and wire cutters.
Read full article: 'Summer Offer from Ocean Optics'
Posted by Ocean Optics on Friday, August 03, 2012 (825 Reads)
MOHR's New MDT-2 Texture Analyzer Helps Give Human Taste-Testers a Break
RICHLAND WA, USA -- /PRNewswire via COMTEX/ -- With the global fresh produce market worth an estimated $675 billion, over $100 billion in the U.S. alone, consumer satisfaction is an important goal not only for the fresh produce industry but also for the wider economy.
Despite this, fresh produce supply chain quality management has lagged behind other industries in the test and measurement arena, in part because test machines have a hard time measuring the taste and texture of fresh produce.
MOHR Test and Measurement LLC (MOHR) has been working on this problem for more than 15 years and has announced the availability of a new generation of test equipment that represents a quantum leap in sensitivity and accuracy.
The new portable, battery-powered MDT-2 Computerized Penetrometer and Texture Analyzer uses the industry's most sophisticated texture analysis technology and is designed to measure the quality of a variety of fresh produce.
Read full article: 'New Texture Analyzer for Fruits & Vegetables'
NextView by BMC Messsysteme GmbH, provides an ideal solution for long-term monitoring in the field of intelligent measurement
Maisach /Munich
GERMANY -- Nowadays in times of high competition pressure, it is more and more important to present meaningful results directly. System downtimes are costly.
Long-term monitoring
of key parameters can help operators to recognize and diagnose problems more quickly
Monitoring of production facilities is done by means of
PC data acquisition systems
today.
Measurement software
is responsible for storage, analysis, and processing of the recorded data.
A key factor is easy access to measurement data at any time
during monitoring
. In addition,
easy to use, straightforward
software is important, otherwise the program can only be used by specialists.
NextView
precisely fulfills these criteria. The professional software of measurement manufacturer BMC Messsysteme GmbH (bmcm) for data acquisition and analysis features all functions to carry out a measurement task such as
configuration, visualization, acquisition, analysis, and documentation
, easily.
Read full article: 'Intelligent Measurement with NextView by bmcm'
Posted by bmcm_Press on Wednesday, August 01, 2012 (758 Reads)
Also precious metals can be scavenged from spent catalysis reactions
Isleham, UK -- Using a specially adapted Asynt 20-litre ReactoMate™ reactor system - PhosphonicS Ltd. (Abingdon, UK) has improved turnaround time and batch-to-batch efficiency for scaling-up production of its range of functionalised silicas.
Using proprietary immobilisation technology, PhosphonicS Ltd. has developed a range of functionalised silicas for pharmaceutical purification and heterogeneous catalysis operations.
The materials enable metal residue levels in drug substances (APIs) to be reduced to very low, regulated levels and precious metals to be effectively scavenged from spent catalysis reactions.
Michael Suggate, Laboratory Production Manager at PhosphonicS Ltd. commented, "Traditionally our scientists relied upon 5-litre heating mantles to scale-up production of our functionalised silicas from tens of grams to initial kilo quantities. However this technology suffered in terms of the initial scale-up speed we desired."
Read full article: 'Asynt ReactoMate improves efficiency at PhosphonicsS'
Posted by wbprimetek on Tuesday, July 31, 2012 (964 Reads)
Ideal for high current, high power testing of large machines, appliances and smart grid applications
Edison NJ, USA – Teseq Inc. now offers a 200 A, 3-phase burst pulse coupling/decoupling network (CDN) for electrical fast transient (EFT) and burst testing.
The new CDN 3083-B200 easily handles high inrush currents and pulse-shaped peak currents, making it ideal for testing high current and high power equipment such as large machines, appliances and smart grid applications.
This new CDN injects EFT pulses simultaneously into all supply lines of the equipment under test (EUT), up to 8 kV (5/50 ns – 50 ohms).
It is designed to be used with an EUT supply up to 690 VAC, either line-to-line or line-to-ground, or up to 1,000 VDC, line-to-line or line-to-ground.
Read full article: 'Teseq Offers New 3-Phase Burst Pulse CDN for EFT Testing'
STA Safety Trip Alarm from Moore Industries SIL 2 and SIL 3 Certified
NORTH HILLS CA, USA—The STA Safety Trip Alarm from Moore Industries has been certified by exida for Safety Instrumented Systems to IEC 61508:2010 for systematic integrity up to SIL 3 and for random integrity up to SIL 2.
This means that that the STA is approved for single use in Safety Instrumented Systems up to SIL 2 and in redundant architecture such as 1oo2 and 2oo3 up to SIL 3.
Approval from exida provides independent verification of the integrity of the STA from a leader in industrial safety certifications and ensures that it meets the industry safety standards specified in IEC 61058: Parts 1, 2 and 3.
As part of its certification of the STA, exida measured the effectiveness of the product development process to prevent systematic failures along with its strength at protecting against random failures.
Certification of the STA by exida ensures product quality and reliability for customers along with reducing risks and lowering lifecycle costs.
Read full article: 'STA Safety Trip Alarms Certified to IEC 61508 by exida'
This small reader can be used in access control, security control or admission control systems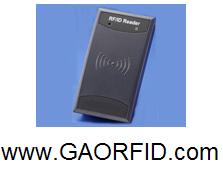 Toronto, Canada - GAO RFID Inc. is offering its 13.56 MHz wall-mount proximity UID reader which is easy to install. It has a compact size which makes it a suitable RFID solution to be applied in access control, security control or admission control systems.
GAO RFID Inc. has provided various solutions that are compatible with RFID readers and tags so that the users can choose whatever they need.
For example, GAO's RFID Access Control Solution is an efficient system for enhanced security to limit access to restricted areas, tracking employee activity and improving loss prevention.
This small size high frequency Wall-mount Proximity RFID reader, model 213003, can read multiple tags from distances of up to 5 cm with a maximum read quantity of 16 tags/s. It works at a fast baud rate of 19,200 bps.
Read full article: '13.56 MHz Wall-mount Proximity UID Reader Features Linear Regulator'
Posted by gaorfid123 on Saturday, July 28, 2012 (792 Reads)
With the new CORE-S modules
New Infrared Technologies complements the MATRIX 1024 and the LUXELL SERIES with the new CORE-S module which represents a low-cost electronic solution for the uncooled imaging and linear arrays, mainly oriented for integration.
The module incorporates the FPA (in uncooled operation) and the A/D stage that includes the intelligent dark current subtraction module to avoid the use of a mechanical chopper.
The system allows a maximum acquisition speed of 100 images per second for the MATRIX 1024 FPA, and a maximum of 1,200 lines per second for the scanning system based on the 64-pixel LUXELL FPA (600 lps for the 128-px FPA, and 300 lps for the 256-px FPA).
The integration time can be also set in a range between 2 us and 100 us. The module is controlled and transmits the raw data (14 bit) via a USB interface using the NIT SOFTWARE SUITE provided.
Read full article: 'New Infrared Technologies expands the OEM module solutions for uncooled MWIR FPA'
Posted by Anonymous on Friday, July 27, 2012 (1082 Reads)
"Disposable Semiconductor Healthcare – From the bedside to point of care genetics" (London, 2nd August 2012)
London, UK – DNA Electronics Ltd has announced that DNA Electronics Chairman and CEO Professor Chris Toumazou FRS will be sharing his vision for the future of the life sciences sector at the upcoming Healthcare and Life Sciences Global Business Summit being hosted by UK Trade & Investment (UKTI) at Lancaster House in London on Thursday 2nd August 2012.
Professor Toumazou will join other key innovators, dignitaries and industry figures from the UK life sciences community who have been invited to address delegates on the future of the sector.
The UKTI-run summit, entitled
"Rising to the Healthcare Challenges of the Next Decade – the Global Business Summit on Healthcare and Life Science",
will focus on the challenges facing healthcare delivery around the world – in both developed and emerging economies, and will discuss and debate the ways in which transformational change in healthcare can be achieved through collaboration between industry, academia and healthcare providers.
The event is being hosted by Lord Green of Hurstpierpoint, Minister of State for Trade and Investment and Professor Lord Darzi of Denham, UK Business Ambassador for the Life Sciences and Chair of the Institute of Global Health Innovation at Imperial College London.
Read full article: 'DNA Electronics Prof. Chris Toumazou Invited Speaker At UKTI's Health Seminar'
Posted by NeonDrum on Thursday, July 26, 2012 (916 Reads)
Kenley, UK -- Optical Surfaces Ltd. has announced the launch of a new, information rich website dedicated to serving the diverse range of industries that benefit from high precision optics and optical systems.
Dr Aris Kouris, Sales Manager commented, "Over the last 50 years, Optical Surfaces has established itself as a leading international manufacturer of top quality, high precision optical components and systems by serving the particular needs of organisations involved with fundamental physics, astronomy, space, defence and the environment.
"Today the company supplies leading research labs and industrial organisations around the world with optical components and instruments including flats, spheres, aspherics, paraboloids, toroids, windows and mounts."
Read full article: 'Informative Website for High Precision Optics Users'
Posted by wbprimetek on Wednesday, July 25, 2012 (1177 Reads)
---